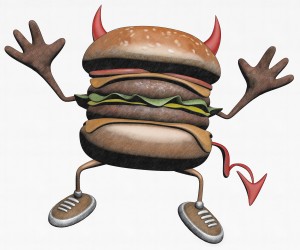 Image is everything in our current society, with slim and beautiful role models appearing all around us. It is difficult to imagine being happy, healthy and successful if your body does not match those that are plastered all around you. This constant desire to attain what is considered to be the perfect figure in order to be happy, content and successful can undermine people's happiness, confidence and how they actually perceive themselves. In turn, this leads to a much wider issue, where not only being overweight, but also people's mental wellbeing becomes a cause for concern.
Weight management is an ever growing topic of conversation in modern society, with even the government beginning to promote healthier lifestyle choices, as a result of the rise in obesity and overweight people within the population. Weight loss can not only lead to the body avoiding serious issues such as high cholesterol, Type 2 diabetes and high blood pressure, but can also help to improve people's mental wellbeing and sense of self worth. It is therefore of great importance that overweight and obese people seek to lose weight, by following a diet plan and by making healthier lifestyle choices. Weight management tablets can help to aid the transition from an unhealthy routine to a newer healthier future and more positive self image for those who are overweight.
Although the idea of how your body will look and feel at the end of the journey can initially provide a huge weight loss drive, the reality of weight loss management makes it easy to become disheartened and unmotivated. formoline L112 Weight Management Tablets, available from Chemist.net, are designed to help aid weight loss by reducing the calorie intake from dietary fats. The natural active ingredient, fibre polyglucosamine (L112), binds with nutritional fat and both are excreted naturally, causing the number of calories that your body can process from the food you have eaten to be significantly reduced. In addition to this, the indigestible and expanded fibre ingredients contained in formoline L112 cause the person taking it to feel fuller.
Other weight management tablets that are available include Obesimed. The active ingredient in Obesimed, Omtec19, absorbs up to 50 times its own weight in water, forming a viscous gel matrix. This triggers sensations of fullness, and helps you feel satisfied with less food. The gel absorbs food in the stomach, and prolongs its release into the body, prolonging satisfaction after you have eaten.
Although weight management tablets can help if you have been struggling to lose weight, it is always important to make sure that you are eating healthily and that you are suitably active, even if you are taking these kinds of tablets. If you are looking to change your diet then it is also advisable to speak to your GP or another trained professional before making these changes.