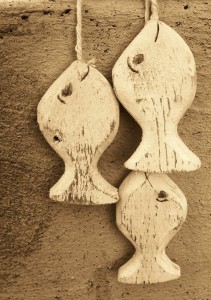 Awareness of the health benefits of Omega-3 has been significantly growing since the 1990s, with highly purified products becoming increasingly available. Here, Chemist.net takes an in depth look at the benefits of Omega-3 and fish oils.
Omega-3 fatty acids are a type of healthy fat that can help protect the body against heart disease. Omega-3 can protect the heart by helping to prevent irregular heartbeats, reducing the risk of blood clotting and protecting the walls of blood vessels from damage. In addition to this Omega-3 fish oils can help to improve the cholesterol level of the blood, by increasing good levels of cholesterol (HDL) and reducing the levels of bad cholesterol LDL). The key Omega-3's are DHA (docosahexaenoic acid) and EPA (eicosapentaenoic acid). Both of these have been found to benefit cardio vascular health, but EPA seems to be the most effective in stimulating brain function.
Further to the benefits that Omega-3 fish oils can have on cardio vascular health, studies have also shown that they can aid concentration and improve brain function, especially in relation to children. Omega-3 fatty acids play an important role in brain-cell development, with almost half the fat from which the brain is made up of consisting of DHA. Previous trials held in County Durham, where children were administered Omega-3 in liquid and capsule form, produced an instant improvement in the concentration levels of children, from toddlers to teenagers. This makes it increasingly important that children, as well as adults, get the Omega-3 that they need on a regular basis.
The main sources of Omega-3 fatty acids are oily fish such as herring, kippers, mackerel, pilchards, sardines and trout. However Omega-3 supplements are now readily available in the form of Omega-3 fish oil capsules. Omega-3 fatty acids must be obtained from either foods or supplements, as the human body is unable to manufacture them. With many people eating significantly less oily fish as part of their diet, compared to their forefathers, Omega-3 fish oil supplements are becoming a real alternative. Omega-3 fish oil capsules allow people to get the nutritional benefits that the body needs, both quickly and easily.
Omega-3 fish oil capsules offer a real and convenient solution to gaining the Omega-3 fatty acids that the body needs, for those who are not gaining the nutrients they need through their regular diet.