Creamy Sundried Tomato and Spicy Chicken Sausage Pasta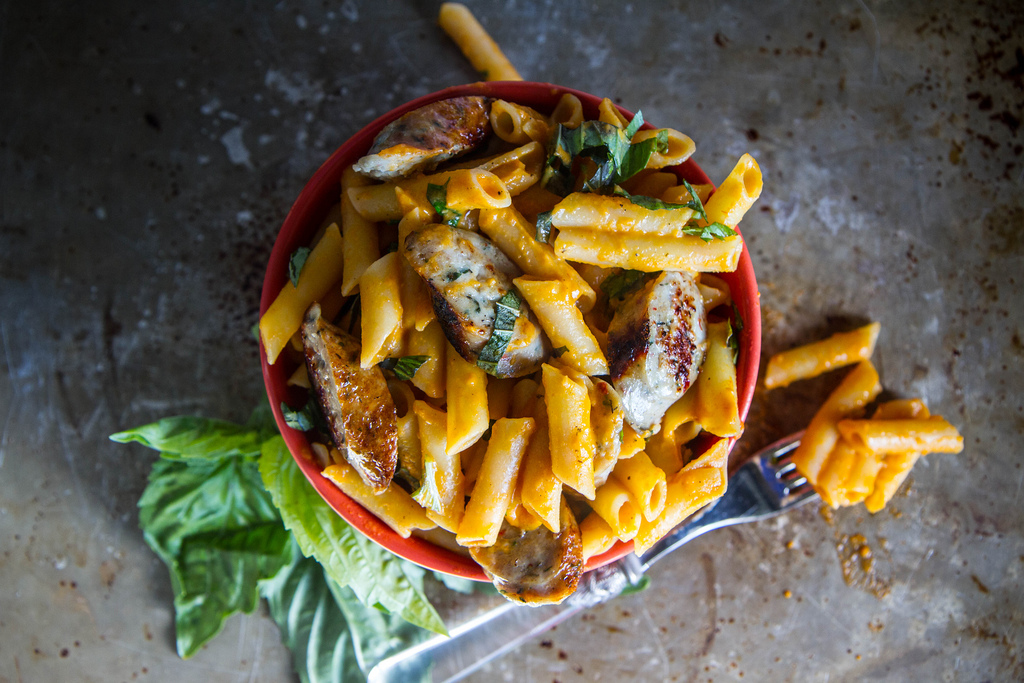 Image source: Heather Christo
A super flavourful and creamy sundried tomato sauce (with NO dairy!!) with the kick from the spicy chicken sausage. However, if you have spice adverse kids eating this, I would just opt for a mild sausage. Enjoy!
Preparation time: 10 minutes
Cooking time: 20 minutes
Number of servings: 4
Ingredients
1 pound of

gluten-free penne pasta

2 teaspoons olive oil

¾ pound of spicy chicken sausage

3 tablespoons olive oil

1 yellow onion, finely chopped

1 clove garlic

3 tablespoons sun-dried tomatoes, julienned

1 cup chicken broth

1/3 cup coconut cream

kosher salt

¼ cup fresh basil leaves, julienned
Instructions
Bring a large pot of salted water to a boil. Add the pasta and cook until al dente according to manufacturers directions. Drain and rinse with cold water well and set aside.

While the pasta is cooking, heat one medium pan over medium-high heat with the 2 teaspoons of olive oil and the sausage links. Fry the sausages until crisp and golden on the outside, and cooked through on the inside, about 5 to 6 minutes total. Slice the cooked sausage links and set aside.

In a large sauce pan over medium heat add the olive oil and the onions and garlic and sun-dried tomatoes and sprinkle with kosher salt. Cook until soft and tender, about 5 to 7 minutes. Add the chicken broth and simmer another 2 minutes. Transfer all of it to a blender and puree on high until you have a smooth sauce.

Pour the sauce back into the pan and cook over medium heat. Whisk in the coconut cream until well combined. Season to taste with kosher salt.

Add the just drained pasta into the pan with the sauce and stir to combine, cooking for another minute or two. Add the sausage and the fresh basil, give it a good stir and serve hot.
Shop with Chemist.net for more Gluten-Free products and ingredients at lower prices.
This recipe is taken from Heather Christo. Check out her website for more healthy gluten-free recipes.